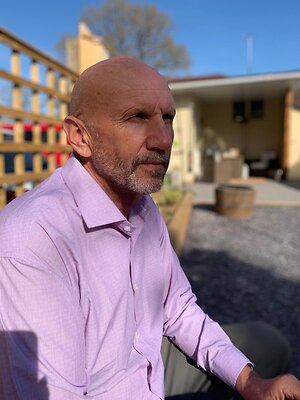 Down to Earth Counselling in Wellow, near Romsey

A relaxed and confidential counselling therapy service in Wellow, near the New Forest.

Hi, my name is Roger, and I invite you to have a look around my website. Find out what my counselling service could provide for you whatever your gender, background or situation. Maybe you have been feeling a bit 'lost', or you just can't put your finger on why you can't achieve your goals? An environment where you can talk freely and be listened to can really help to improve your overall wellbeing.

My practice is within easy reach of Romsey, Southampton, The New Forest, Salisbury and Winchester. Sessions can be held outdoors (weather permitting) where you can enjoy the open space and nature around you. You are welcome to sit or walk during the session and I allow smoking/vaping when we are outside.
I know that counselling is a daunting experience for a lot of people so that's why I try and keep my sessions as relaxed and friendly as possible. Use my free initial session to see if you feel we can work together. There's no pressure as finding the right counsellor for you is a top priority in my view.
I have lots of clients that are finding talking through their issues with me really useful. Please don't suffer in silence, get the help you need to be your best.


About me
You could say I haven't had the life of a typical counsellor. Having worked as a scaffolder, site manager in the construction industry for many years, and running my own building business, I haven't got lots of academic accolades or years of university studies behind me. Instead, I spent most of my working life in manual jobs in a totally male dominated environment where showing emotions is often frowned upon - even ridiculed - and banter is the top communication style on site. Research is showing more than ever that talking openly and honestly about your emotions is healthy, and can lead to better wellbeing and better outcomes in your life- something I am keen to help others achieve.

Counselling has come about much later in my life, after leaving the building industry behind and pursuing other interests, I have acquired a deep knowledge of child development through 20 years of being a foster carer and have experience of working closely with the social care industry.

I also volunteered for two years at ANA Treatment Centres as a counsellor, supporting clients with alcohol and drug addiction. The Centres specialise in a 12 week substance-free residential programme based on the '12 Step Model', incorporating group and individual counselling to support recovery from substance addiction.

I am passionate about supporting people who have previously thought that counselling is not for them. I now work from my small holding where being literally 'down to earth' is my way of life, by growing my own produce and getting closer to nature. Whilst my training enables me to support you with any issue you bring to our sessions, a list of topics I am more experienced in can be found here.

Have you ever asked yourself:
'Why would anyone want to see a counsellor?' or 'How could a counsellor ever relate to my life experiences?'

If you have, maybe you didn't think that a counsellor could be from very humble beginnings in life, or be an approachable, friendly person that can listen to you and give you space to talk about what matters to you? Talking, and feeling truly listened to, can help you to improve your relationships, wellbeing and confidence. If after reading this you want to know a bit more, please contact me to have an initial free discussion about how I might be able to support you.

My approach is known as 'Gestalt Humanistic' counselling - more information about this can be found here.